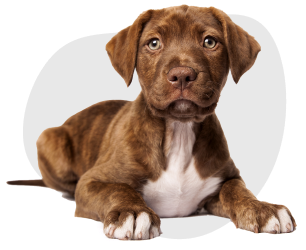 We're only a small team here at PetRescue, but we make big and bold platform updates to help more pets get seen, and adopted, every day!
From time-saving features for rescue organisations, to matchmaking, to security and stability patches and speedy optimisations; we're all hooves on deck to remove the boundaries in animal welfare!
Check out some of the most recent updates our pawsome Devvies have recently shipped!
Got a suggestion for us? We're all ears
New feature
How about a new navigation bar to jazz up your PetRescue website experience? The team at PetRescue are paw-ssionate about inclusivity and making sure the website is accessible for everyone who visits it. The current navigation bar has now been rearranged to help those who might need a bit of extra help when utilising text-to-speech apps to browse. While this feature isn't officially live yet, keep your eyes peeled because it's coming soon to a browser near you!
Maintenance
When Dev teams work on new website updates - they are first saved on an environment called "staging" which should not yet be visible to the public before being released to the public, while they undergo thorough testing for quality before going live to users. Shout out, and equal parts commiserations, to the sneaky little kittens who may have caught a glimpse of this in the past - as this has just been fixed, meaning only the PetRescue admins can now view what we have in store for you next. Se-purr-ity is su-purr important here, and everyone loves a surprise, right?!
Maintenance
Uh-oh, did your Mittens walk across your keyboard while trying to log in and lock you out of your PetRescue account again? It happens. As does simply forgetting your password! However, the team have now limited login attempts to protect your identity and to make sure no pesky scammers can get through. This means if someone tries to log in to your account with incorrect information, it will be lock after five attempts. Don't panic if this occurs and it's actually you, though - you'll be able to unlock your account successfully by simply checking your email, which will have instructions on how to get back in!
Maintenance
Science shows that looking at photos and videos of cute pets may contribute to a reduction in stress by improving blood pressure, heart rate and anxiety! So the last thing we want to do is impact your health by having the pet profiles on our platform load too slow! The PetRescue team are onto it, and have been working hard in the background to improve the way images are stored and managed. So this means all profiles (especially the older ones) will be loading in no time for all your viewing needs!
Improvement
PetRescue has hit refresh on a new donation page website design. We've provided more detail around exactly what programs and initiatives you're supporting when you kindly donate to us!
Improvement
Members - if you've received an email alert from PetRescue recently and it doesn't look fur-miliar? That's because the team has been working on a whole new design! We wanted you to have an idea of what exactly it is you're missing out on before you take the time to click through - so along with a much needed visual make-over, we've also implemented previews of the newest article to read in the alert up front!
New feature
The team have done a re-barkable job working on the new 'Draft Listings' feature for the PetRescue member community which was launched this month. The feature enables PetRescue members to create draft listings when uploading pet information, but aren't ready to publish the profile just yet. This means you can create a profile for the pet with the information you have on hand, upload photos from your phone and save it to complete later. It also assists teams to collaborate better while pet information is being confirmed because multiple people can make changes to the listing now. Draft mode will enable you to If a listing is in draft mode, it won't be visible to the public.
New feature
PetRescue member group admins can now remove users who no longer work with their rescue or organisation. The only exception to this is, the person who originally created the group on the PetRescue website cannot be removed.
New feature
Whether your pet is a cat, dog or bunny, you'll now find the 'species' box at the top of the listing form.
Improvement
PetRescue website users can fur-get about those errors popping up on listings and forms because the team have been on it. The new improvements will have users feline fine!
Improvement
Se-purr-ity is super im-paw-tant here at PetRescue and the team have been working very hard to ensure that your data is better protected from those pesky scammers!
New feature
We hope our puns aren't taxing because it's that time of year again, tax time donation appeal is here! Firstly, a round of a-paws for every single one of you who donate. Your donations support our big, hairy and audacious work towards creating happiness and saving lives, which you can read more about here. Every donation you make over $2 is tax deductible, we appreciate you, fur-real!
Maintenance
The team are feline-fine about how updates show up on our website because the whole process is now more secure.
Bug fix
If you uploaded a paw-some video to your pet profile as the featured image and couldn't update it to the purr-tty new selfie you took, don't worry this has been fixed. You are free to change your feature photos and videos as often as you want!
Bug fix
We had a pesky bug floating around the website this month which stopped our users from removing their group logos. Don't worry this has now been fixed!
Bug fix
Paw-den us, a button that was reserved for PetRescue admins started showing up on group members admin pages - oops. If you spotted this, well done. If not, you can fur-get about it because there's nothing to see here anymore.
Improvement
Breaking Mews: we have removed the option for member organisations to connect their Facebook accounts to their PetRescue account. This is to ensure our online community are purr-tected from those pesky scammers!
Improvement
Are you pro-cat-stinating writing pet profiles? Don't forget, our profile writing AI Bot is a claw-fully useful tool for you to use! If you need a refresher, check out our members benefits page here to make sure you are using the free resources available to their full pet-tential.
Bug fix
The team were busy fixing things this month. If you had trouble changing or removing your paw-some profile photo or rescue group logo, this has now been fixed. Make sure your photos are showing off your purr-sonalities!
Improvement
When you release an animal into the wild, it takes some time to learn about its surroundings before adapting. Well, since we released our profile writing AI bot into the wild, it has been learning a lot. It is currently deciding what works well and what doesn't to make sure it can write the purr-fect profile for your pet.
Maintenance
The team is always on top of se-purr-ity and they've been busy updating our internal software.
New feature
Remember when we launched PetRescue TV? You'll find banners displayed across our website to purr-suade you to click on it for a cuteness overload! Check it out here.
New Feature
Call se-purr-ity! This month the crew set up additional security measures for the information we store in our database so that we can cryptographically secure more data. In layperson's terms: we scrambled up some data to secure it - so only we can access it, and no pesky scammers can!
Improvement
While we were prettying things up, we also added in a placeholder image with a pet logo to pet listing pages before the group uploaded an image.
Improvement
Have you checked out the Just Adopted page before? Good feels are guaranteed - you can check out just some of the happy faces who have just been marked as adopted on PetRescue! This month we popped in some quick links to happy tails of adoption to the page to keep the wholesome vibes going!
Bug Fix
We were in fix-it mode this month! Previously, when groups were deleted and then re-instated, their name would be missing. Now, if groups leave the platform and then return, the name of their group will be correctly reset.
Bug Fix
Two factor authentication is su-purr important for keeping everyone and their data safe and secure online. The team fixed a pesky bug which was causing the two-factor authentication toggle to not switch on when folks booped it - yikes!
Bug Fix
Two factor authentication continued to be a little furr-strating this month, with it giving a pesky message saying that the login code was invalid when entered. This is all fixed.
Bug Fix
The crew also caught and released a bug that was affecting the bulk status update feature. Previously, nothing was happening when groups tried to update pets statuses to 'removed' - this is now fixed and includes a confirmation pop-up.
Maintenance
Social logins got an update this month in line with the social platforms also being updated to a new version.
New Feature
This month may just have been our biggest yet! The crew released PetRescue's AI bot into the wild, which writes a whole pet profile from just a couple of bullet points entered! The new feature will relieve busy workloads for rescue workers and volunteers, and speed up the adoption process. As powerful as it is though, the AI Bot could never replace the task completely because every pet has a beautifully unique paw-sonality! Learn more here.
New Feature
The team have been working hard behind the scenes to launch PetRescue TV, the fun video streaming tool bringing you all the joy and happiness you'll need today! You'll be seeing videos of adoptable rescue pets from all across Australia currently looking for love, from big dogs, to quirky kitties, to bonded besties. But read the warning label first: there's a cuteness overload of boopable snoots coming your way. You'll find some basic details about each pet (like their name and location) next to their video, and you can easily click through to their profile to find out even more about their special purr-sonality and the home they're looking for.
New Feature
We made im-purr-vements to the two-factor authentication input, making it easier to understand and navigate. This also included a fix that means if you need to get a new token, you'll be sent one automatically, meaning folks can start enquiring about adorable rescue pets even quicker!
Bug Fix
We fixed some furr-strating bugs too this month - the photo editing modal for PetRescue member groups wouldn't open when they tried to crop images - this is now sorted.
Bug Fix
Adorable pet photos are the best, but not when they're duplicated! We caught and gently released a pesky bug which caused some pet listing photos to be duplicated when members uploaded them.
Improvement
We were busy doing zoomies this month, transferring a lot of data that was in a clunky format into a new format that's faster and easier to manage. This will set us up to make performance im-purr-vements in the future!
New Feature
For all the love birds out there, we set up Valentine's Day gift cards featuring some loved-up pets - an adorable way to support PetRescue's mission to create happiness and save lives!
New Feature
Boop! We switched on the PIC requirement for groups rehoming farm animals, as mentioned last month.
New Feature
Just like your nosy pet who loves watching the neighbours from the window, it's im-paw-tant for us to keep up with all the happenings in the world of animal listing requirements. With Property Identification Codes now required for organisations rehoming livestock in Victoria, we made this a listing requirement for all farm animals listed for adoption in Victoria.
New Feature
PetRescue's Home2Home program allows a pet owner to safety rehome their pet - with assistance from our friendly team, they can chat with potential adopters, arrange meet-and-greets, and finally select the right human for their pet. We created a new Home2Home donation page this month which allows pet owners using the program to 'pay it forward' by making a donation that will cover another pet owner's program fee. As many folks using Home2Home to rehome their pet are experiencing financial stress, this helps to keep the program accessible for all!
Bug Fix
Who doesn't get that strong urge to share every cute pet listing they come across on social media?! This month we fixed the pet listing Facebook share link, so you can continue to spam your loved one's new feeds with adorable snoots.
Improvement
We know how busy member groups are, so it's su-purr annoying when pesky issues slow down their pet listing process! We fixed a furr-strating issue in our API which meant if groups using ASM used the wrong case when typing in a location, a location name wouldn't appear.
Improvement
Zoom zoom! The team started the process of doing a major reorganisation of our database structure with the big goal of making things faster and more affordable.
Improvement
While we were making the site do extra fast zoomies, we also optimised the 'Rehomed' page to make it quicker - previously it was very slow and impacted the entire system and its responsiveness.
Bug Fix
The crew fixed a bug that caused the main menu alignment on screens in between mobile and tablet sizes to bork.
Bug Fix
We also fixed an exploding page! When a large number of attachments were sent in a conversation (say, photos of a potential adopter's backyard) the page gave up. Rest assured, this is now fixed.
Maintenance
Like when your doggo's stuffed toy mysteriously explodes, it was time for a clean up! We cleaned up some old code and data, and also upgraded some software to new versions.
Maintenance
While we were in freshin' mode, we removed some old code we no longer need for the PDF generator.
Improvement
It's su-purr important that the PetRescue platform is accessible, so as part of this, we made an update so that folks using assistive technologies can hit the 'escape' key to exit out of pop-ups.