Published on: 7 Sep, 2020
Theme 2 - Get pets home, keep pets home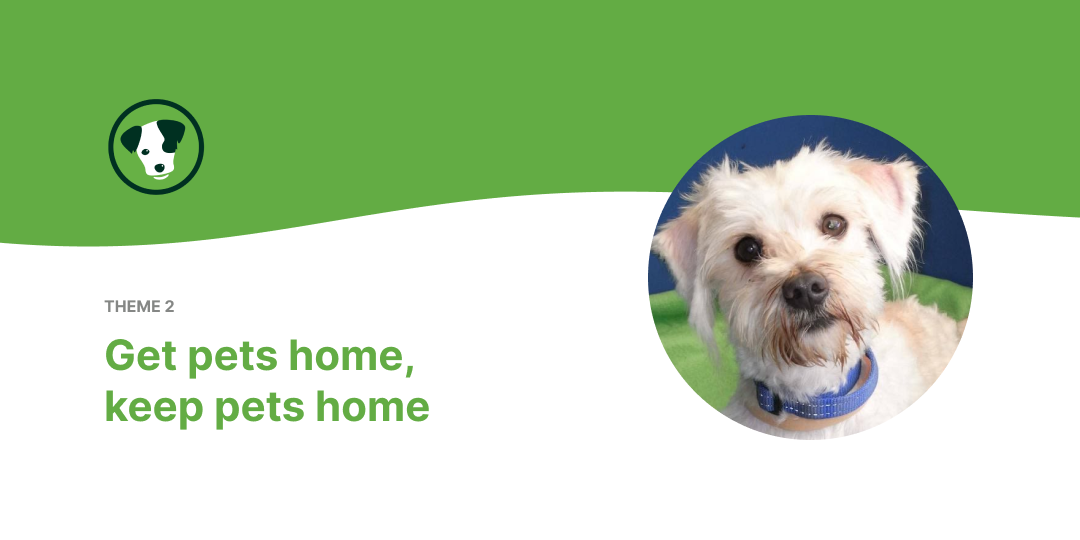 Currently, laws force pets into the pound system - can we save more lives if we stop pets entering this system in the first place?
Most Australians consider their pets to be part of their family, hence losing a pet or having to rehome a pet can be a stressful and traumatic experience. Unfortunately, our current animal management legislation doesn't reflect this sentiment. Instead, escaped, lost or stray pets are considered - by law - to be a public nuisance. Owners face penalties for 'allowing' their pets to roam, pet registration doesn't guarantee the safe return of your pet and pounds do not guarantee to rehome an impounded pet.
Most pets are safest in a home environment or under veterinary care. Can the community reunite lost pets with their owners without them entering the pound system? Can we support owners to rehome their pet without having to surrender them to a pound or shelter?
How can we stem the flow of pets going into pounds by keeping them in their existing homes or moving them to new homes, without them ever entering the system?
Issues
In some states, although vets can access the owner's details through microchip data, it is illegal for vets to contact the owner and they must send the pet to the pound.

There is no legal requirement to scan lost pets, and many animal management officers are not supplied with/do not actually carry microchip scanners with them.

There are more than six microchip databases in Australia and owner contact details can only be accessed by councils and vets (who, in some states, cannot legally return the pet to their owner directly). These databases are closed and provide no public access.

There is no support for those needing to rehome their pet.

Many council pounds have opening hours that are inaccessible for people working a regular 9-5 job, making it difficult for them to be contacted.

Unowned or semi-owned neighbourhood cats end up in the system but will never have a chance to return to their 'home'

A disproportionate focus on public safety and privacy has inhibited innovation in animal management with the current system focussed on punitive measures for owners rather than prioritising the life of the pet
Opportunities
Can we empower the community to get lost pets home without them entering the current animal management system?

How can we keep pets safely with their owners?

Can we reimagine the ways we connect lost pets with owners?

Pets are microchipped. Microchip data is locked down across multiple vendors and can easily become out of date - does it have to be this way?

Can we provide new tools for animal management officers to find owners quickly without pets entering the pound?

Can we stop urban stray cats being removed from their outdoor homes?

What better measures can we implement to send lost and wandering pets straight back to their homes without having to step foot paw in a pound