Published on: 7 Sep, 2020
Theme 1 - Reimagine the system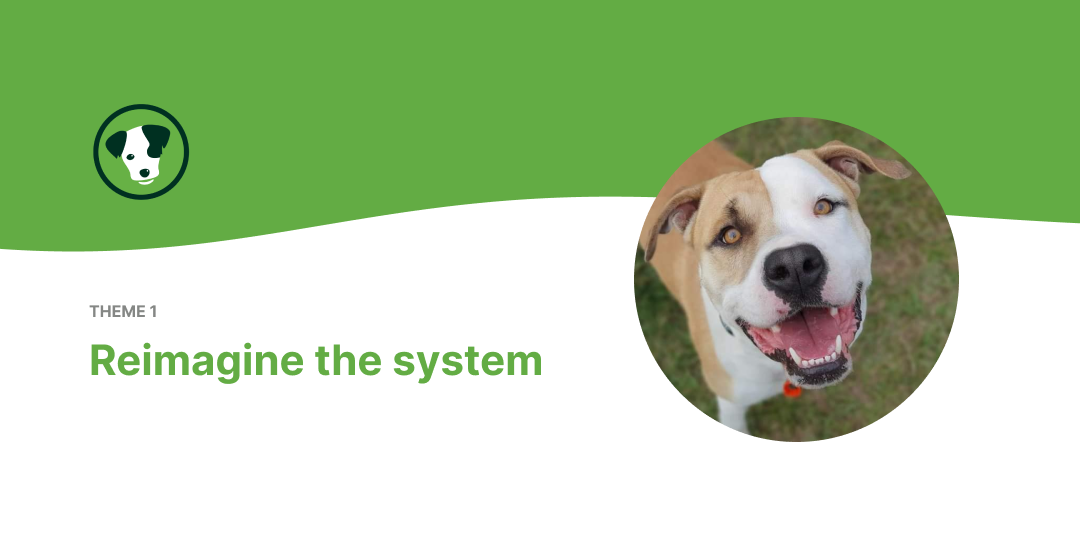 The current approach to animal management masks the real issue - that our pound system does not give impounded pets safe options. When a lost or wandering pet is first picked up by an animal management officer, legislation dictates that it must be taken to a pound to wait out its holding period.
This is where the pet's future becomes uncertain.
If pet owners aren't able to claim their pet in the specified time period - sometimes as little as 48 hours - these pets can be killed, sold, or given away. The lucky ones may be taken in by a rescue organisation.
Rescue organisations (many which are run by volunteers) save the lives of tens of thousands of pets every year. While this may seem like a successful approach to help pets, rescue groups are underfunded and overburdened, and ultimately are simply propping up a deeply flawed system.
Can we look at fixing the core problem rather than just the symptoms? Can we create a system where the health and welfare of every pet is the priority?
Issues
A disproportionate focus on public safety and privacy has inhibited innovation in animal management

Scared, unwell, and possibly misdiagnosed pets can be killed upon admission without owners being contacted

Pet microchip and registration data is closed and not accessible between council systems

The continual killing of healthy pets takes a huge toll on staff. PTSD is common in this sector

Rescue groups are effectively working as unpaid contractors to councils, saving unclaimed pets from being killed which masks the issue

Complacency due to common belief that if a pet is microchipped they are guaranteed to be reunited with their owner

It is the responsibility of the owner to find a pet, yet there is no central system for pet owners to easily track or locate their pet

The guilt of not saving a pets' life is passed from council workers whose hands are tied to rescue groups who are overburdened and under-resourced
The Opportunities
Can we empower the community to get lost pets home easier and bypass the system?

What would a system look like where owner data is available widely - getting pets home quickly and safely and meeting expectations around privacy?

How do we design an animal management system that prioritises pets lives rather than treats them as a nuisance

Imagining challenges faced by councils and rangers, how do we remove barriers that hold back innovation and achieve change at a local government level?

Can we reimagine the way lost pets are reconnected with their owners and safely returned home?

Is there a solution that helps pets get home rather than punish owners?

How do we use data or behavioural science to pilot and drive change

There is a huge demand for pets via PetRescue.com.au. How do we put healthy pets in front of loving homes without burdening rescue organisations?