Have you ever wondered how PetRescue.com.au became the first point of connection between scores of rescue pets and hundreds of thousands of adopters? 💚
Over the past 16 years, PetRescue has become Australia's first and most popular pet adoption platform, with tens of thousands of adopters visiting it every day to connect with pets across the country. The efforts of the PetRescue community have influenced social change for 16 years with pet adoption becoming more mainstream, and every paw and tail having an equal opportunity to find love with humans.
Even though love for rescue pets continued to flood in over the years, a part of the puzzle was still missing.
Despite having access to a free adoption platform, there were still roadblocks to rescue pets finding homes. One of these hurdles was that the rescue organisations that managed these pet adoptions were overworked, under-resourced and often struggled to respond to adoption enquiries.
Never one to step away from a challenge, our team came together to create that missing puzzle piece and enable rescue organisations to save more lives 💚
Snoots of love, some boops of tech, wonderful feedback from our amazing member rescue organisations and the support of our valued partner, Everyday Pet Insurance from Woolworths, were all the key ingredients to creating a unique and robust adoption process system...
🥁...The Matchmakers Project!
Our key goals behind this project were to:
Invest in advancing technology and create free digital solutions that could lighten the load for member rescue organisations

Improve the experience for all potential pet adopters

Create a safe communication channel for adopters and member rescue organisations

Find the right home for pets faster 🐶
The formula: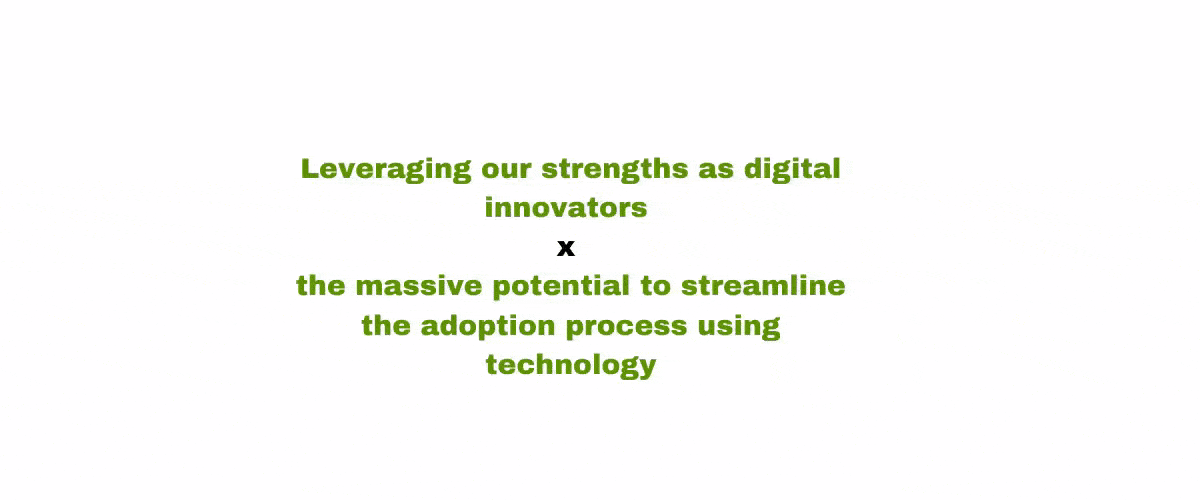 We implemented this ambitious project in three phases, and in 2019, all the goals we set out to achieve with the Matchmakers project were achieved 💪
Phase One - Mobile responsive website
✅ Completed: 2017
📢 Impact: 4 million+ pet lovers use the new responsive mobile site to find adoptable pets every year
We weren't kidding around when we said we'd put rescue pets front and centre! To ensure that pet lovers can find rescue pets anywhere and anytime, adoptable pets had to be accessible on every phone in Australia.
Predicting that mobile technology would only advance, a new mobile responsive website was launched in 2017, complete with comprehensive search functionality to help users find their perfect match in just a couple of clicks 💖
Today, over 70% of the pet lovers who visit PetRescue.com.au are using a smartphone. Phase one of this project was, therefore, a critical one to put thousands of rescue pets effectively in front of 4+ million pet lovers per year.
PetRescue member rescue organisations can now list pets and manage enquiries on the go, including the ability to take a pet's photo and within seconds upload them straight away from their mobile device without the hassle of physically transferring files to their computer. In just a couple of minutes, they can snap a photo from their mobile devices ➡️ create a profile ➡️ and hit upload ⬆️ and voila, their pet is in front of hundreds of thousands of pet lovers across Australia 🎉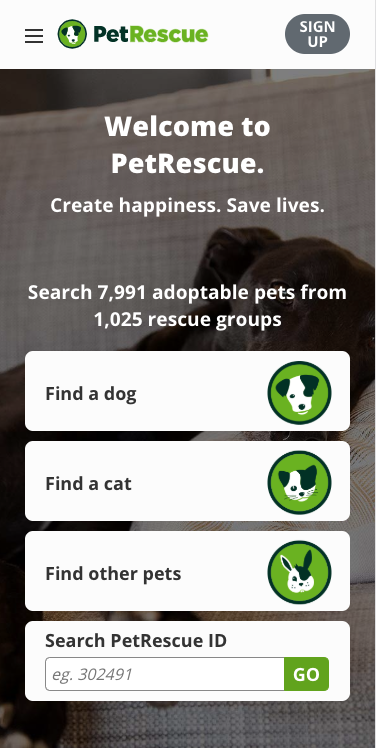 Image - website photoshopped in situ with a hand holding a mobile device
Phase Two - Adopter profiles
✅ Completed: 2019
📢 Impact: 43,000+ potential adopters have created profiles and saved time for member rescue organisations
Once pet adoption was at people's fingertips, the next step was to reduce the burden of mounting adoption forms and emails for member rescue organisations listing pets. Phase two saw the implementation of 'adopter profiles'.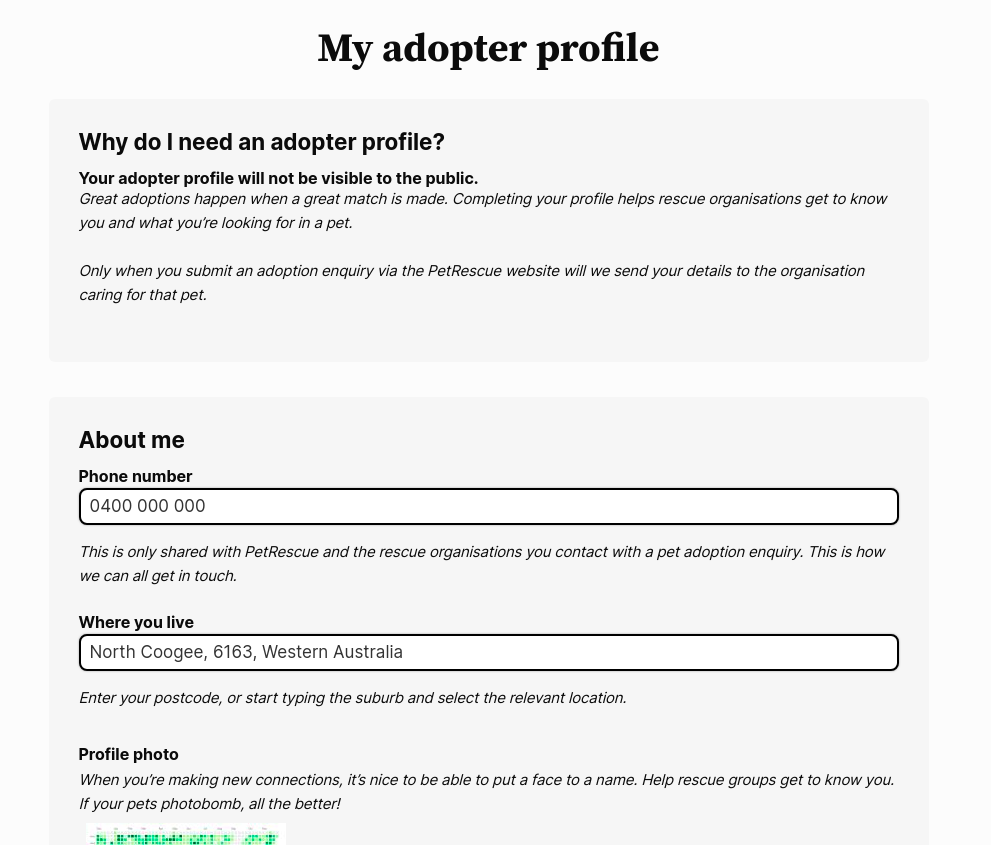 Adopters can save time emailing rescue organisations by creating an adopter profile
Potential pet adopters are now able to create and save their own detailed online adopter profiles, customise and receive alerts for newly available pets and save their favourite (pets). Thanks to this, they don't get deterred by the idea of writing scores of emails and adoption application forms for different pets as member rescue organisations and foster carers can view all required information on their PetRescue profile.
Phase Three - In-platform conversations + time-saving features
✅ Completed: 2019
📢 Impact: Adopters and rescue organisations have saved time writing 700,000+ emails to date
Predicting that modern messaging solutions and chat systems would eventually overtake outdated forms of communication such as email, a 'conversations' feature was launched as an instant messaging system for rescues and adopters to be able to communicate with each other. It is a contemporary chat interface within the PetRescue platform that's always up-to-date and accurate.
As more adopters and member rescue organisations began using our in-platform conversations, we added bonus features to further enhance the communication between the two groups:
Bulk Messaging: To ensure that adopters are instantly made aware of any changes in the availability of the pet they enquired about, member rescue organisations now have the ability to send an automated message to enquirers if a pet is adopted or if the pet isn't taking more applications, along with a reason why that particular pet may not be available at this time. This encourages faster communication between the two groups.
Automated Reminders: In an effort to speed up the adoption process and make the platform more intuitive, automated reminders were created for rescues using the platform to help pets who have been listed for a while, with reminders prompting them to boost their pets' profiles.
The Pivots 💡
Today with over 690,000 pets marked as adopted on our platform, which is visited by 750,000+ pet lovers every month, the Matchmakers mission has proved to be more important than ever.
While our initial plans envisioned 'Phase 4' of Matchmakers to be an integrated PetRescue app, we identified that we had already achieved what we set out to do in the first three phases - create positive experiences for adopters and member rescue organisations who use the PetRescue platform. And now, it's time to look to the future with more projects to reimagine the system for pets using advancing technology. Follow our work to learn more.
Subscribe to our newsletter to keep up with our mission and support vital life-saving programs that create progressive outcomes for rescue pets.