Last updated: 4 Sep, 2020
Published on: 3 Sep, 2020
PetHack 2020 - Nominate a rescue organisation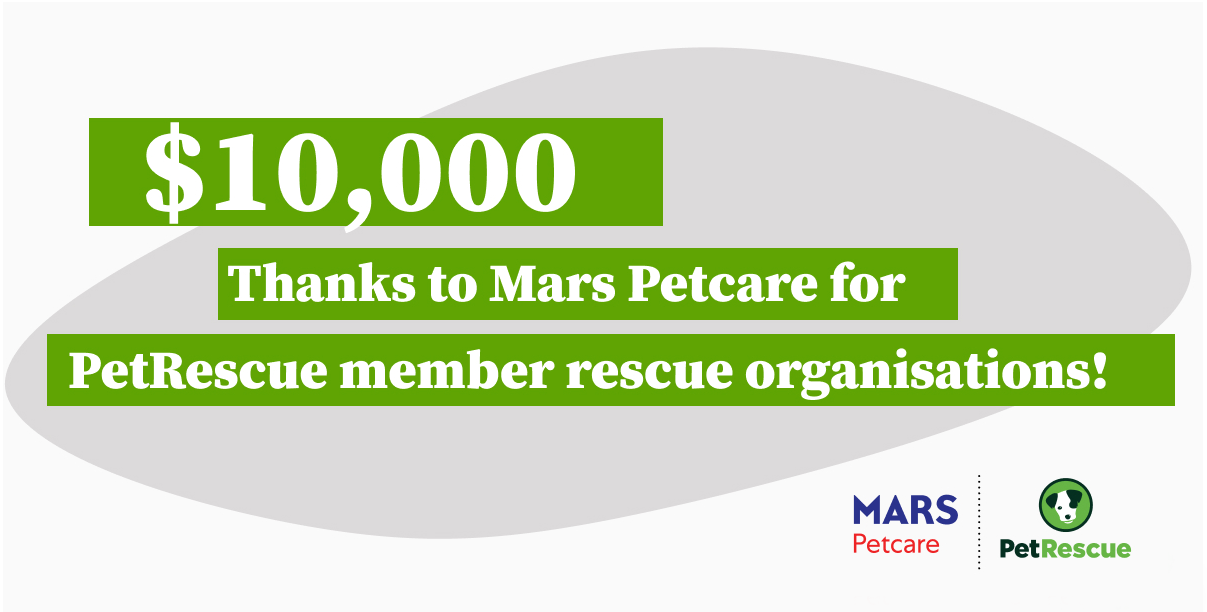 Share the happiness and fuzzy feels x 10 with those on the frontlines saving thousands of lives each year.
Our wonderful partner Mars Petcare has kindly offered to donate a total of $10,000 to our amazing PetRescue member rescue organisations. Shared below are details on the nominated PetRescue members' and their plans to assist with the goal of helping more pets in need.
And now it's up to you to choose your recipient ✅ Make sure you have at least two in mind, in case your first choice is already picked by another winning team.
Have a read through all their nominations and select the organisation you'd like to see win this prize money at the end of PetHack 2020. Good luck! 💚
Liberty Foundation Australia
Liberty Foundation Australia exists to rehome animals specifically from research establishments so they can go on to lead happy, healthy and fulfilling lives as cherished pets. Since 2017 Liberty Foundation have saved more than 250 animals from euthanasia rehoming rats, guinea pigs, mice, fish and a dog!
In order to expand their operations, Liberty Foundation took steps to develop a business plan, strategy and budget. A fundraising campaign was planned to raise the $5000 needed to formalise operations and secure essential business structure such as insurance. The fundraising campaign was to start in April 2020 but was unable to launch due to COVID.
Maneki Neko Cat Rescue
Maneki Neko Cat Rescue works collaboratively with community groups, businesses and local councils to improve the welfare of cats and kittens by finding loving homes to increase adoption rates and working to increase reclaim rates along with promoting positive care for cats including desexing and microchipping.
Maneki Neko are currently fundraising for their Feline Friends Assistance Program which is to provide crisis accommodation for those in crisis such as fleeing family violence, experiencing homelessness or financial crisis. Funds are currently required to install six new self-contained cat 'pods' in the boarding facility which will be offered free to eligible families in need.
SA Cat Rescue Inc.
Since being founded by a group of animal lovers in December 2019, SA Cat Rescue has already found homes for over 100 cats. Through a network of dedicated foster carers and volunteers, SA Cat Rescue keeps homeless cats and kittens safe until they can find their forever homes.
SA Cat Rescue are developing the idea of branded 'Roadside Rescue Kits' containing essential supplies that equip members of the public to assist an injured animal while out on the road. The kits will include emergency phone numbers and items such as gloves and towels to assist on the spot with the aim to get the animal to a vet more quickly.
Northern Rivers Greyhounds As Pets
Northern Rivers Greyhounds As Pets are committed to saving and rehoming retired and non-racing greyhounds in NSW. Greyhounds As Pets say PetRescue has been instrumental in helping rehome greyhounds. Their current goal is to raise funds to build a park purpose-built to help greyhounds with a smoother transition into homes.
As many of the dogs have only ever lived in kennels they haven't experienced simple household items. The park will feature everyday items like a clothesline, steps and other obstacles that the dogs will come across in their new homes aiming to settle them quicker when adopted.
Second Chance Animal Rescue Inc.
Since establishing themselves in 2008, Second Chance Animal Rescue has found homes for over 10,000 cats and dogs. Through their large Community Animal Hospital, they are also able to offer low-cost care to disadvantaged pet owners in the local area and are focussed on progressive community programs to keep pets in homes with their owners and out of pounds.
Second Chance Animal rescue wants to keep pets out of pounds by building on their current community welfare programs supporting members of the local community facing financial hardship. Programs include Pet Food Pantry offering free pet food, low-cost dog training and low-cost veterinary care via the Community Hospital. Other programs include SAFE House for Pets offering temporary respite care for pets whose owners are fleeing domestic violence.
South Coast Animal Rescue Inc
SCARI rescues both pets and livestock from all situations including pets in the pound, orphaned babies, mums and their litters and also helping wildlife groups. Set up in three country towns this volunteer family rescue organisation is based in Tomerong, NSW.
Helping those who cannot afford vet treatment or who cannot afford to reclaim their pet from the pound are a few situations where funds donated to SCARI help the community and pets. Currently funds raised are also helping those who have lost everything in the fires by providing food, bedding, flea, tick and heartworm treatments for their pets.
Moorook Animal Shelter
Based in South Australia's Riverlands, Moorook is the only animal shelter and has been rescuing pets since the 80s literally saving the lives of thousands of dogs and cats. Another area of focus has been desexing of stray cats reducing the population of them in the area.
With funding normally reliant on sausage sizzles, garage sales and local market stalls this has caused struggles with those fundraising opportunities shut down due to COVID. With the support of the local supermarkets, food is being donated for animals in care however mounting medical bills is putting the shelter at risk as the need for desexing and emergency support for pets is still needed.
Best Friends Felines
Best Friends Felines is dedicated to rescuing cats and kittens (and the occasional special needs puppy) from all over Brisbane and coastal areas. Best Friends Felines takes in pets whether they are surrendered by their owners or saved from an unsafe future in the pound and will look after them for whatever time it takes to find them a loving home.
A high demand program with BFF is their Last Litter program having already taken in 30 mums and their kittens this year and bracing for the kitten season about to hit. Seeing a high demand to support those experiencing domestic violence, BFF next plans are to establish and formalise a program to meet this need.
Port Macquarie Animal Welfare Service
Port Macquarie Animal Welfare Service (PMAWS) is dedicated to the welfare of domestic animals in the Port Macquarie/Hastings area and beyond. They have helped abused, abandoned and unwanted animals and rely heavily on invaluable assistance from donations, fundraising, foster carers and voluntary workers.
PMAWS aims to help create a community where every pet has a permanent loving home, is desexed and treated with respect and compassion. Due to the impact of COVID, PMAWS fundraising activities have not only taken a hit but their intake has increased. Impressively PMAWS has tried to solve this by trying new ways of fundraising including GoFundMe, QR stickers on donations tins and plans for an EFTPOS facility. As their intake and rehoming of animals in need has increased during lockdown, they need support with expenditures such as veterinary, medications, food and litter.
Devoted 2 Dachshunds Rescue
Devoted 2 Dachshunds are passionate Dachshund lovers who understand the breed and are there to offer a free, caring and compassionate rehoming service for dachshund owners who are unable to keep their pet.
Dachshunds are a popular breed however are predisposed to expensive medical conditions due to their long back and short legs resulting in many more dogs being surrendered than people would expect. In the last year, over 100 dogs have been surrendered. With the excessive medical bills and surgery that can come with owning a dachshund fundraising for this rescue is focussed on bills for corrective surgery.
Angels Rescue
Angels Rescue is based in Toowoomba, working within the local community to rescue pets, focused mainly on cats and kittens aiming to give the best care and find the best homes. They aim to stop the breeding cycle through their Last Litter Program.
The current focus for the regional based group is assisting those in the local area who are facing hard times with food and medical supplies for their pets. Other programs include a Last Litter Program offering free desexing for the mother and also a Seniors Program offering a home and care for senior pets in their twilight years.
William Skea's Animal Rescues
A recent start-up in July 2020, William Skea's Animal Rescue focuses on saving and rehabilitating pets who are victims of animal cruelty and finding new, loving homes for them. Although only established just two months ago, they have successfully found homes for 23 rescued cats and mentored 13 new foster carers.
William Skea's Animal Rescue is fundraising to cover expenses for the various medical conditions that pets in care have. Using volunteer foster carers, funds are 100% funnelled to medical bills with many cats with multiple health issues including flea allergy dermatitis, flea anemia, cat flu, eye/ear/respiratory/wound infections, multiple organ dysfunction, dental disease, and FIV.
Labrador Retriever Rescue Australia
Labrador Retriever Rescue Australia are a very small but dedicated rescue group that, as the name suggests are particularly passionate and focused on the retriever breeds.
Labrador Retriever Rescue aims to keep pets out of pounds by raising funds to enable the responsible rehoming of pets that may require veterinary work without that pet being surrendered to a pound or shelter. The group also aim to commence a Last Litter Program offering free desexing to a mother dog who has had puppies.
Little Paws Kitten Rescue
Little Paws Kitten Rescue is based in Brisbane, Logan and the Gold Coast and as their name suggests rescues cats and kittens. Through public educational events that promote desexing, microchipping and vet checks they aim to improve the lives of our feline friends.
Fundraising for Little Paws goes directly to the care and upkeep of cats and kittens in care.
Happy Hearts Animal Rescue
Happy Hearts Animal Rescue is dedicated to promoting balanced, respectful and enriched relations between people and pets, working in conjunction with pet suppliers, shelters, veterinarians, trainers and other professionals in providing for animals needs. Their focus is promoting desexing, foster and adoption to save more lives.
Happy Hearts Animal Rescue is fundraising to pay for medical expenses of the cats and kittens currently in their care.