Last updated: 6 May, 2021
Published on: 29 Apr, 2021
Community Cat Program Testimonials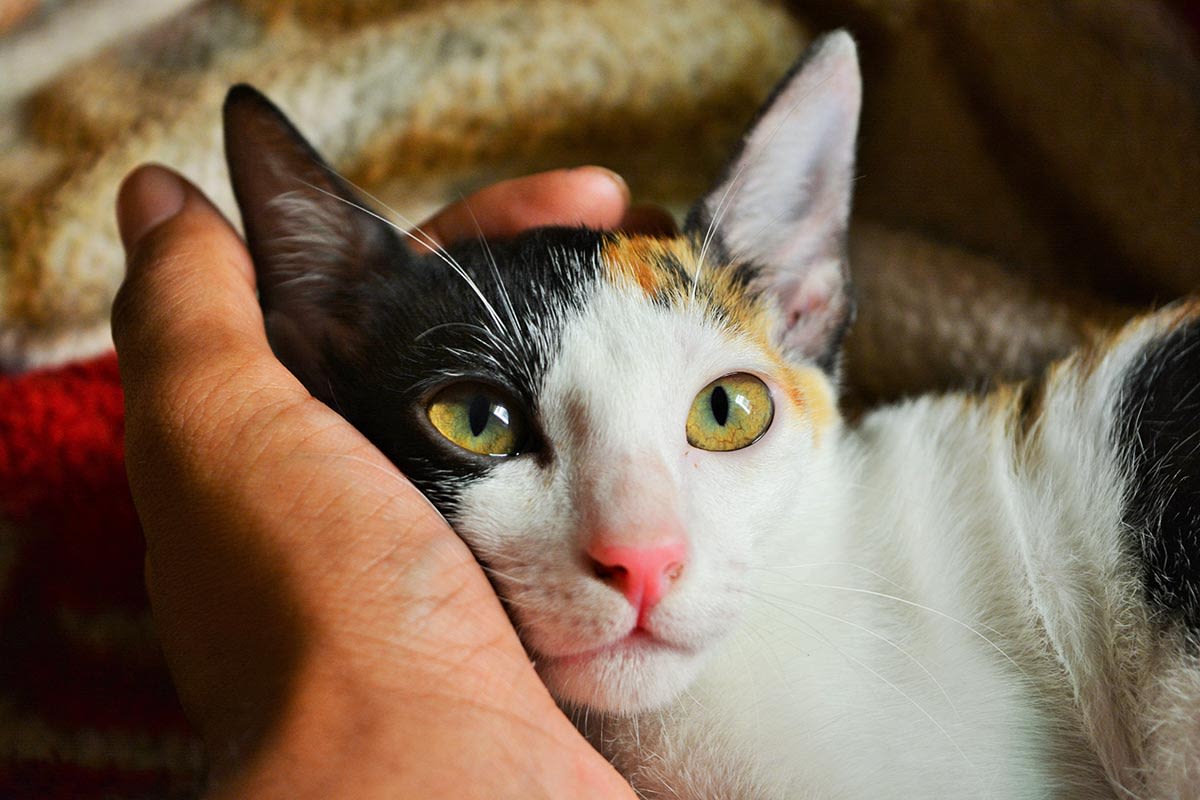 Free desexing as part of the Community Cat Program is already creating a positive impact on the residents in the Ipswich community...
"As a single mother bills are a bit tight. I was very impressed that you offered this service to my suburb as I just received a kitten from a neighbour who had trouble finding a home for my beautiful girl. I didn't want the same problem happening to me, so getting her desexed was the right choice for my family. I believe that having this offer makes it easier for families to make a choice about desexing their loved one. I would recommend this offer to other suburbs to reduce the unwanted cat population. My kitten is doing so well and is loving life. Thanks again."
TH, Goodna
"Being able to access the community cat program helped the 2 kittens my family rescued, it made sure that they could have desexing, microchipping and their vaccinations done without delay after coming into our care. Not everyone is in a position to take in stray or abandoned animals like we have been able to do based on not being able to afford their initial care. Having a program like this not only helps those situations but also helps stop it from happening in the first place. We are so grateful that we have been able to take part in the Community Cat Program and are so thankful that it was available to us. Thank you so much,"
A, Redbank Plains
"I think this is a great idea to desex cats for free as the program is very good for those who are not financially able to do it. This is an awesome program as there are a lot of unwanted kittens. I would like this program extended to everyone."
AC, Redbank Plains
"We were really excited when we saw the opportunity to desex our cat for free. It's nice to see proactive and effective program to limit more kittens in need of rescue. I think the decision would be easy for many families when cost is eliminated or like us, will help us make a good decision. We are grateful for our little fellow coming into our lives, we love him deeply and having him desexed at such a young age will continue to keep him safe (and inside)."
MH, Redbank Plains
"I love the programme that you had. I had 2 cats done that I had rescued. Without the help of the programme, I would not have been able to afford to get them spayed. So I hope you can continue to keep the programme running for people like me and a lot of others out there who cannot afford to get this done. My cats are so happy. Came home happy like nothing had happened and to this day are still very happy chunky cats now. No more roaming."
NH, Redbank Plains
"We never chose Buddy to be our cat. Buddy chose us. We've had more cats than we can count visit our property since we moved in four years ago, some collared, and some notably strays. Buddy falls into the latter category. After hanging around for several months my partner decided to build up some trust with Buddy through petting him. Soon after that we started feeding him and the rest is history. This program gave us the ability to get him desexed and integrate him into the home (with our other cat and young child) and get him off the streets. I think this program would be hugely beneficial for Ipswich and (in the long term) will take a lot of pressure off the pound and local animal shelters that are otherwise left to deal with high numbers of strays and abandoned cats or litters. Thank you again for this opportunity"
L, Redbank Plains
"Look, to be honest this program is fantastic! Reason being there are so many stray uncared for cats in our community which is really sad. I think also people cannot afford to desex, microchip and vaccinate their cats and kittens which leads to kittens being dumped and left helpless. The service my kitten Neon got was great, and we went for a check as well, a week later and it was no worries at all, just peace of mind for me that she was healing well, I cannot fault anything that Neon had done and the vets and yourself are wonderful, and I have spread the word about this wonderful program. Ipswich City Council along with all other councils should invest in this program!!"
C Redbank Plains
"I think the program is amazing. I am concerned about the number of street cats in Ipswich as it is. I would fully support a Community Cat program for current street cats. I'd like to view it as having provided a huge weight off my shoulders. I had planned desexing… it was always a firm priority, but just financially out of reach each time another animal needed assistance. I'd like to think it might assist in reducing the number of litters of kittens. I believe this program would benefit all residents in Ipswich. I feel to address the oversupply of cats in Ipswich, desexing is the only realistic non-lethal option."
S, Redbank Plains
"My cat Nosey came into my life about 3 years ago [as a stray]. He often played with my cat and I used to feed him when I fed mine. We decided to get him desexed through the community program as I have always heard that when desexed, toms don't stray. I recommend the council keep at it, as it is way too dear to be able to afford it. I got two kittens desexed and as there was no way I could afford any more kittens, I had to put it on Zip Pay so I could afford it. Took me a very long time to pay it off. I think desexing the cat is a very important thing to do."
K, Goodna
"My cat had an unwanted litter already and I didn't want to put her through that anymore. It has helped by knowing she is not able to fall pregnant and I would have the stress of feeding, kitten vet fees and rehoming. I think there will be a lot less strays killing wildlife and harassing people. I would recommend this program. The community already has a huge stray cat issue, it would greatly help to control it. It is not only to help low income families, but every member of the community and the cat itself. I got our cat from a friend's farm, the mother was a stray herself. She has been with us since 5 weeks and is our baby."
SL, Redbank Plains
"I'd just like to say a huge thank you for your help in desexing my 2 cats. Pretty much we've never had pets ever, but when a few stray cats came into my backyard searching for food I couldn't turn them away. But I couldn't afford to pay to get them desexed. This program really helped me out financially. I know this program will definitely help other people so it'll be greatly appreciated if we can keep this program going. There will be less stray cats out and about which will mean a safer community for our kids and pets. I would highly recommend this program. It's benefited me financially, mentally and as well my cats are healthy, no fleas and are much better off. I love my cats… and now that they're safe, desexed, healthy it's bettered my mental health a lot knowing this. So I want to say thank you from the bottom of my heart and my little cats' hearts too. Appreciate all your work."
EI, Goodna
"A flyer came in the mail advertising free desexing of cats. I've wanted to desex my cat for a while now as she has had some issues with peeing around the house when she's on heat and I thought this would stop that - it did btw, thanks! With cats not getting pregnant, people aren't getting rid of kittens they can't look after, as people tend to just release them into the wild and then they breed more and then we have a cat problem. Having a free desexing clinic gives people no reason not to desex their animals. Who doesn't love free things!"
J, Redbank Plains
"I was prompted to get the cats fixed so I didn't have any unwanted litter. Helping have both the cats desexed has helped by calming them down, being more loving. I think the free cat desexing benefits the community for residents that are unable to afford the high costs involved. I definitely support this program within the Ipswich City Council. I feel the whole community can work together to stop unwanted cats. We are both so grateful to the Pet Welfare Foundation for desexing them both for us. They will not only not have unwanted kittens but they will have a healthier life because of it."
MB, Goodna
"Tigger came to me as a giveaway and I wanted, as most people do, to give her the best possible life, and part of that is to ensure that she does not add to the cat population. I wanted to have Tigger desexed as soon as recommended, and with the help of the desexing program this was possible. Many people including myself are suffering financially due to the current economic downturn and cannot afford to have their pets desexed. Tigger was desexed and treated with the utmost respect by a wonderful veterinary service. I thoroughly recommend expanding this program into other areas."
L, Rosewood
"I'm so grateful I got the opportunity to participate in the community cat program. My cat kept going in and out of heat and the poor thing seemed miserable and you could tell it was affecting our other cats. We didn't want her to breed as well. She has never been happier since getting the procedure. My cat no longer goes into heat and doesn't cry anymore she's cuddlier and less timid. Desexing is expensive, that is why we put it off for so long. Yes. 1000% yes I would recommend this program be supported by Ipswich City Council. This will free up the pounds and stop unwanted litters hopefully. My beautiful baby came to me from an unwanted litter she was going to be put down, and I couldn't let that happen when I had met her. Thank you for giving me this opportunity and your amazing team for treating my baby so well."
ZMcP, Redbank Plains
"My children and I decided to get a kitten to add to our family. I came across the advertisement for free cat de-sexing in my area. At the time I wouldn't have been able to afford it, so I jumped at the opportunity before it was too late! I was so grateful to have that chance as I wanted to do the right thing by our kitten and by our community. I believe this free de-sexing program is a great cause for all communities to give them a helping hand to do the right thing for their fur babies as it would encourage them to help prevent unwanted pregnancies and family cats becoming strays. It also helps people that may be in some financial hardship who cannot afford to get it done, even if they wanted to. I would definitely support this program to help the cats and their families for all of these reasons and more! And I thank them for helping me!"
S, Rosewood
"I will happily vouch for such an astounding programme. Cost is the predominant reason [for not desexing]. We want a loved one, we want to look after it, and if it's desexing compared to the cost of worming, feeding and keeping him safe and happy, desexing comes second. We wanted to desex him for a great deal of time, as he would be gone for days, just being a cat. But he would come home skinny, malnourished and sometimes injured. We knew for his own welfare, Saffron needed to be desexed, he would have died or gone wild and done damage to the native fauna and flora. The welfare of an animal not just extends to the life of the said animal, but the actions they commit. The effects of the desexing were almost immediate. He stayed home more, sleeps more and is much more chilled. He still demands his food, although we've cut back since he's no longer running about as often and no longer skin and bones. He's a happy, healthy, smiling from-the-eyes happy boy. I think, any programme, that extends an offer to make desexing more affordable, that is to say, free; is worthy of the support of a national scale. It would lower damage to native wildlife, help balance the ecosystem and lower the cost of programmes to control these things, lowering the tax-payers expense in a long-term fashion, as theoretically, once the amount of desexed [cats] reaches a critical point, the population will decline and be completely controlled, truly domesticating them. Saffron came to me from a litter of cats being essentially bargain rushed out the door as they already had too many mouths to feed. Having limited money and a heart for underdogs and the littlest of the litter, I picked this lovely boy. Anyway, I love the little guy, as does my flatmate. I won't go further on, but that is my endorsement of this program."
Anonymous, Rosewood
"Desexing my cats removes the stress and problems of unwanted litters. Free cat desexing benefits the community by stopping cats roaming the neighbourhood and help control cat overpopulation. I would recommend this program be supported by the Ipswich city council because it will help cat owners to be able to desex their cats without worrying of the costs. My cats came into my life from friends, and I am fortunate to get them desexed by the program so please Ipswich city council help us with the program. I love my fur babies and they bring great joy to my life every single day."
J, Goodna